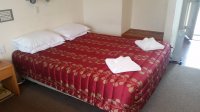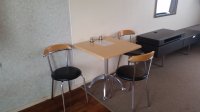 14 Studio Units
4 Family Units
1 Double unit
The studio units all have a double bed, and a single; some have 2 singles in them.
All units have a fridge, tea and coffee making facilities, TV with channels 1, 2, 3.
All except two units have cooking facilities.
Other household necessities as an iron, hair dryer, porta-cot are available on request
Guests' laundry can be done by contacting the front desk personal.
The complex comprises 5 rooms on two levels at the western side and has 14 units on two levels on the southerly side facing the road. All these units have double glazed windows on the road side.
Other Services:
Restaurant Facilities
Full Bar
Room Service
Laundry Service
Wireless Internet
Fax Service
Special Event Weekends:
Please make early reservations to avoid disappointment.